We've found each other. Welcome, we're delighted you are here.
Now that you've arrived, before you go any further, before you spend a minute more of your valuable time on this page can I ask you one question.
"What's on your mind?"
✅

Curiosity

✅

Self-development

✅

Learning

✅

Building your skill stack

✅

Improving

✅

All of the above

⛔️

None of the above
If it's that last one sadly we're probably not for you but we're still really happy you came by.
If it's any of the other reasons you might find what you're looking for so go on, have a poke around.
About The Success Methods Academy
We have a single focus. We're dedicated to providing you with the first class training you need to master the core skills needed to excel in the workplace.
Why is workplace mastery our focus? To answer that ask yourself these questions.
How is the world of work going to change in the next 10 years?
What will be the impact of AI, robotics, every improving software and automation on, well, everything?
If you see things as we do you know big changes are coming, changes for which we all want to be fully prepared. And it's already underway. Today employers place the highest value on the skills that cannot be replicated by software, or by AI, or robotics, or automation.
Human skills.
Like how to build a clear and complete understanding of a complex topic between two people. Or how to lead an organisation on a path that will help them get the best possible return on their investment in your solutions. Or how to communicate most effectively in a 1:1 meeting with a team member when setting out a new challenge only someone with human skills could master.
We are here to help you prepare for this future. Right now we're just getting started. You can find our current courses below. We have big plans for the future which includes an exciting pipeline of courses we're building so if you don't see what you are looking for drop me a line on [email protected]
Once again, welcome to the Success Methods Academy.
Ian & Matt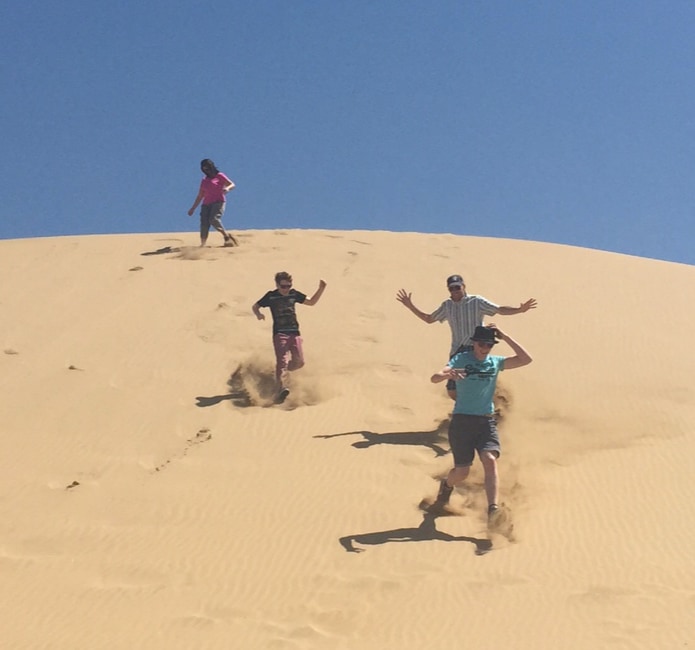 Hi, I'm Ian
That's me, the guy in the stripy white shirt running down a monster sand dune in Morocco with my family
I do have a serious side. Over 30 years of experience in a wide range of roles from individual contributor to manager, director and executive. Jobs including leading the Customer Success function at Salesforce UK&I for 4 years, 2 years as Chief Customer Officer at Fuse Universal and 2 years leading EMEA Advanced Customer Services at Oracle.
In that time I've coached hundreds of people to develop their careers and capabilities helping them see the value of having an enquiring, restless attitude to self-improvement and the development of their professional skills.
My focus now is sharing this expertise as widely as possible by creating courses with Matt that enable us to deliver on our mantra of "powerful ideas, simply expressed."
Hi, I'm Matt
This is me at my day job: running my son's football team. Ok, that's not strictly true although it often feels like it.
What's my serious side? I have 20 year's experience supporting customers and leading teams. It includes customer success at Salesforce, relationship management at Barclays and creating a global team at Bio-Rad. My experience stretches across numerous verticals and geographies.
During these roles I have developed my own skills and led others to develop theirs by having a constant determination to improve. My focus on providing practical value to customers and colleagues has been at the core of everything I've done.
I am excited to share these skills alongside Ian to deliver courses that can be immediately applied to help you improve your professional live.